Western Isles to reconsider plans to phase out visiting teachers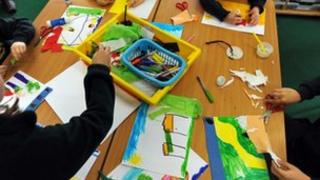 A council is to re-examine a plan to phase out the use of visiting art, music and PE teachers in its primaries.
Comhairle nan Eilean Siar estimated it could save £512,000 by not filling vacant itinerant teacher posts.
Education committee chairwoman Catriona Stewart said the future provision of the teachers would be reconsidered as part of a wider budgetary process.
She said education would not suffer if they were phased out as many pupils played sport and music outwith school.
Ms Stewart said: "The future provision of itinerant teachers will be considered in the budgetary process, but it is clear that choices will have to be made about what type of service we provide."
The comhairle said that all primary teachers were qualified to teach art, music and PE.
It added that there was no statutory requirement for itinerant provision.
The full council will look at the issue on 6 September.
Meanwhile, the comhairle has delayed introducing its new school transport policy until 25 October.
A discount scheme could also be offered to some parents with children who no longer qualify for free transport.
Changes to the distance at which pupils are entitled to free travel had been scheduled to take effect from 3 September.
Two senior councillors asked that the start date be pushed back to allow parents more time to make alternative travel arrangements.
Some parents have been protesting against the new policy.