Tax rolls reveal Scotland's past servant population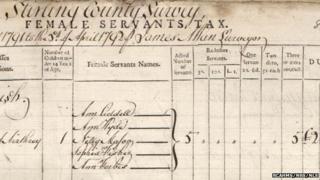 Tax rolls that reveal the use of servants in Scotland in the 17th and 18th Century have gone online.
The records show that women worked mostly in towns as household servants and men in rural areas as butlers, gardeners and coachmen.
In 1785, there were nearly 15,000 servants assessed - 4,158 male and 10,207 female.
Taxes were levied on wealthy households that employed non-essential servants, such as valets and domestic help.
The historical records exclude the majority of the servant class, such as farm labourers and people working in factories, inns and shops.
In Scotland, taxes on female servants were assessed between 1785 and 1792 and on male servants between 1777 and 1798.
The records give the location, name of the master and usually the name of the servant.
They are among the latest additions to the website Scotland's Places, www.scotlandsplaces.gov.uk.
The site draws on archives held by the Royal Commission on the Ancient and Historical Monuments of Scotland (RCAHMS), the National Records of Scotland (NRS) and the National Library of Scotland (NLS).
Release of the documents online comes amid a public interest in the lives of servants and their masters through TV dramas Downton Abbey and Upstairs Downstairs.
In 1785, a year the organisations have highlighted as being of particular interest among the records, almost 15,000 servants were assessed.
Glasgow had 220 fewer male servants than Edinburgh's 352, but nearly twice as many female servants - 1,043 compared to 589.
Of Scotland's female staff, 40% of female servants worked in towns, compared with only 18% of males.
Non-essential servants in the Highlands and Islands were few and far between.
In Orkney only one male servant and 51 female servants were taxable.
Culture and External Affairs Secretary Fiona Hyslop said the records provided "rich historical detail" of communities and people in the past.