Scotland to host International Appalachian Trail talks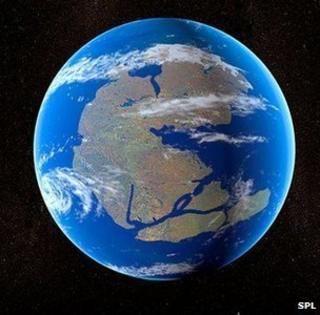 For the first time Scotland will host the annual conference of the International Appalachian Trail.
Inverness has been suggested as the venue for the event next year.
The IAT is an attempt to connect treks in the Appalachian Mountains of North America with others in Europe and Africa.
The areas share geology going back a billion years through a process of ancient supercontinents forming, breaking up and forming again.
In Scotland, the IAT can be followed by using trails that stretch from Cape Wrath in Sutherland to the Mull of Galloway in the south of Scotland.
It will be only the second time the IAT's annual conference has been held outside of North America.
This year's event was held in Iceland.
Extensions of the Appalachian Trail into Scotland and Greenland were agreed in 2010.
IAT Scotland's volunteers include geologists at the British Geological Survey.
Earlier this month, the IAT was included on a US travel magazine's list of the world's best hikes.
National Geographic Traveler Magazine ranked it alongside 19 other trails, including the Santa Cruz Trek in Peru and Tibet's Mount Kailash Pilgrimage.
The West Highland Way, which covers 96 miles (154.4km) from Milngavie on the outskirts of Glasgow to Fort William, was also on the list.
The Appalachian Mountains of North America lie between Flagg Mountain, in Alabama, in the US, and the north end of Belle Isle in Canada's Province of Newfoundland and Labrador, Canada.
However, the Appalachian terrain continues as what are known as the Caledonides of Ireland and Scotland.
Around one billion years ago Scotland and the north-east of the US and eastern Canada were close neighbours on the supercontinent of Rodinia.
Rodinia broke apart around 720 million years ago, but Scotland and parts of North America remained neighbours on the eastern edge of a continent called Laurentian.
Around 400 million years ago England, Wales and south-east Ireland on the continent of Avalonia, and Norway and the rest of Scandinavia on the continent of Baltica collided to form the Caledonian-Appalachian mountain chain.
Further movements of land masses followed.
Scotland was finally separated from the north-east Appalachians around 50 million years ago by the opening of the North Atlantic Ocean.
But the shifting of continents is not over.
America and Eurasia will crash into each other over the North Pole in 50-200 million years time, according to scientists at Yale University.
They predict Africa and Australia will join the new supercontinent too, which will mark the next coming together of the Earth's land masses.
The continents are last thought to have come together 300 million years ago into a supercontinent called Pangaea.