A9 crackdown catches 700 speeders in 10 days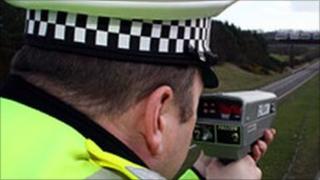 Almost 700 drivers were caught speeding on the A9 between Inverness and Perth during a 10 day road safety campaign.
Northern Constabulary and Tayside Police said the numbers breaking the speed limit was concerning.
The campaign was given wide publicity by the forces when it was launched last month. The effort saw 687 motorists recorded speeding.
Across the 10 days, 33 people were also caught using mobile phones while driving.
Insp Norman MacLeod, of Northern Constabulary's road policing unit, said: "Despite our best efforts to encourage motorists to drive responsibly and within the speed limits, there is still an alarming number of people detected not doing so."
Tayside Police road policing Inspector Julie Robertson added: "Both Forces are disappointed in the numbers committing these offences especially when speed can quite often be a contributing factor to collisions and therefore casualty numbers."
The campaign, which included the Northern and Tayside camera partnerships, saw the forces target a wide range of poor driving behaviours, from using mobile phones whilst driving or not wearing seatbelts.
Although patrols on the A9 between Perth and Inverness were increased during the crackdown, both forces said they would continue to focus their attentions on the road.