Funeral in Muir of Ord for boat trip girl Grace Mackay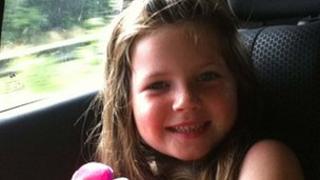 A funeral has been held for five-year-old Grace Mackay who died in hospital following a canoe accident on a Highland loch last month.
Ewen Beaton, five, and Jamie Beaton, two, also died after the boat capsized in Loch Gairloch in Wester Ross.
The boys' father Ewen Beaton, 32, remains missing and searches have been made to find his body.
Hundreds of mourners gathered at East Church, in Muir of Ord, near Inverness, for Grace's funeral.
Grace's sister Callie, eight, and their father Garry were on a trip with the Beaton family from near Beauly.
Callie and her father managed to swim to shore to raise the alarm.
Earlier this week, the two families thanked the emergency services, hospital staff, friends and family for their efforts to rescue and search for their loved ones.
The funerals of brothers Ewen and Jamie will be held on Friday.
The accident happened on 26 August. Grace died at the Royal Hospital for Sick Children in Glasgow the following afternoon.
Classmate tributes
At her funeral, floral tributes to the primary school pupil included purple and white flowers arranged to spell out her name.
Several pink wreaths and bouquets were laid outside the door of the church.
Grace's immediate family arrived as the Carly Rae Jepson song Call Me Maybe was played in the church.
The inside of the building had been decorated by Callie with Moshi Monsters, a favourite toy of the two sisters.
Mourners sang Amazing Grace and He's Got The Whole World In His Hands during the service, which was conducted by the Reverend Scott Polworth.
The minister read a list of comments made by her classmates at nearby Tarradale Primary, including: "She was always smiling.
"She was a good friend. She was a kind girl who let me play with her. She had a good imagination. She was fun to play with. She was funny to be with."
Afterwards, her parents Wendy and Garry and sister Callie looked on as her white coffin was placed in the hearse to the sound of a piper.
The piper led the cortege from the church.