Elgin and Fortrose developers in US Civil War app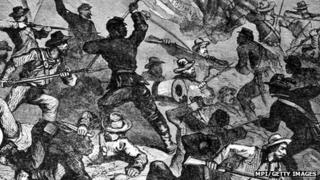 A strategy game based on American Civil War battles has been developed by two small Scottish companies.
Elgin-based Hunted Cow Studios and Hex War, in Fortrose, created Civil War: 1863 for use on iPads and iPhones.
The developers researched smaller actions of the 1861-65 conflict for the app's 16 campaigns.
They plan to eventually release a "big battle" edition where users will be able to play some of the war's major battles.
Andrew Mulholland, director of Hunted Cow Studios, said the newly released game was based on historic events.
He said: "To research the battles we bought just about every book we could find with a decent order of battle listed.
"We wanted enough information to be able to name every unit and general in the game correctly and use a battlefield map, unit strength, weapons and capability that was representative of the actual battle."
Mr Mulholland added: "We decided to focus on the smaller battles, there were over 10,455 military actions in the Civil War so we had a lot to choose from.
"The iPhone interface is not a lot of space so the smaller actions of the civil war were ideal."
Others in the north of Scotland have been creating games for tablets and smartphones.
Michael Lawrie, 15, from Fort William, had three apps accepted by Apple over a five-week period last year.
The teenager first developed a game called Atomic Dodge Ball, which he followed up with an app called Hungry Rudolph and a "lite" version of his first game.