Paralympics: Karen Darke and Rachel Morris wanted to share bronze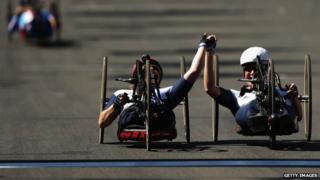 Team GB hand cyclists Karen Darke and Rachel Morris said they had wanted to share bronze in the women's H 1-3 after crossing the finish line holding hands.
Halifax-born Darke, who lives in Inverness, and Morris, from Guildford, Surrey, were cycling side by side for a large part of the road race.
The pair crossed the finish line hand in hand, but Morris finished marginally ahead to officially take third place.
Morris, 33, won the time trial gold in the Beijing games.
She told London 2012 Paralympic Games broadcaster Channel 4: "We both worked so hard together and we're hoping to be able to get the bronze medal together too.
"I've been though a lot so this bronze medal means more to me than the gold I won in Beijing."
Darke took silver in the women's H1-2 time trial earlier this week.
Following the Games, Ms Darke, who used to base herself in Grantown-on-Spey, will resume her preparations for an expedition to the South Pole.
In 2006, she was one of a team of adventurers who took part in an expedition that completed a gruelling crossing of Greenland's ice cap.
Ms Darke sat on skis and used arm power and ski poles to cover the 372 miles (600km).
She has also climbed Mont Blanc, Matterhorn and California's El Capitan and hand-cycled the length of Japan.