Bill may clear way for crop planting on unused land in Scottish cities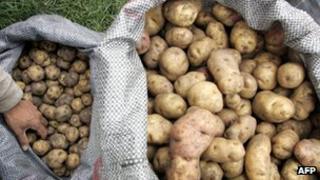 Urban communities could be given powers that would allow them to take over unused land and grow crops, flowers or plant trees.
The "community right to grow" is among ideas contained in the Scottish government's proposed Community Empowerment and Renewal Bill.
Other suggestions include extending rural community land buy-out rights to large towns and cities.
Underused public sector buildings could also be taken into community ownership.
The government described the ideas as radical and said it was potentially the biggest power transfer since devolution.
Public views have been sought on the ideas, which include:
Urban right to buy, which would extend the right that currently exists for rural communities to buy land to urban communities
Right for communities to take over unused or underused public sector land and buildings
Right to use and access unused land where the owner is not able to show plans for future use. This could include the "community right to grow", allowing communities to plant flowers, crops or trees
Community compulsory purchase which would help communities to put vacant land and buildings back into use.
Local Government Minister Derek Mackay said the bill had been designed to strengthen communities.
He said: "The Community Empowerment and Renewal Bill is potentially the biggest transfer of power since devolution, transferring power from central and local government to Scotland's communities.
"We believe that the people of Scotland are best placed to take decisions about their future - both at a national and a local level."