The enduring appeal of ghost stories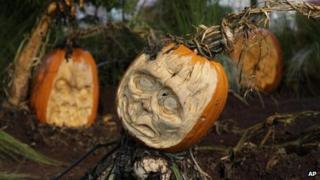 It's Halloween, the time of trick or treating, carved turnips and pumpkins flickering on doorsteps and the telling of spooky stories. But who really believes in ghosts today?
In Scotland it seems, almost every castle, big old house and dark corner of a road is haunted.
Website The Paranormal Database lists UK reports of ghosts, UFOs, fairies and cryptids - creatures such as the Loch Ness Monster.
It has 965 records for Scotland, 8,383 for England and 485 for Wales.
The Scottish records include the Clencher, thought to be a little girl, who grabs the arms of people as they walk down Aberdeen's Union Street. Also, a phantom Roman legion that is said to march near Bonchester Bridge in the Borders.
A spokesman for the database said it continued to receive reports from Scotland, though fewer than other areas of the UK. But he speculated that this was due more to population density rather than belief in the paranormal.
There are groups dedicated to investigating the unexplained, such as Scottish Paranormal and Highland Paranormal.
The National Trust for Scotland (NTS) is also not afraid of discussing spooky goings. On its website it has a section where staff relate stories of paranormal activity at historic properties.
Gordon Nelson, collections care officer at Culzean Castle in Ayrshire, has recalled how staff tell of having their clothing tugged by unseen fingers.
Mr Nelson added: "A cleaner also saw a female on the first floor gallery of the Oval Staircase. She described it to me as a lady with a long dress and it looked as if she was floating around the gallery. This spirit looked like a very hazy grey mass."
Naomi Mandel, duty manager and guide at Drum Castle in Aberdeenshire, said the spirit of a long ago laird's wife haunts a room where she had been imprisoned by her husband.
Ms Mandel said: "One of the chairs in the room has a throw on it. There have been several times when I have smoothed out the throw, locked the room and come in the next morning to find the throw crumpled as if the chair has been sat in. Also, items on the dressing table will have been moved.
"One of the guides and I set a trap one evening. We smoothed the throw and arranged the items on the dressing table in their usual way. In the morning the items were a right angle to how we left them."
Cameron Ross, who has led guided walks in Inverness for five years, has encountered a keen interest among people in visiting historic places where events of the past are said to haunt the present.
He said: "People want to hear about where the public hangings were held and where witchcraft trials took place.
"There are quite a few places of interest close to Inverness city centre, including the Old High Church were Jacobites were executed after the Battle of Culloden."
'The adrenalin'
Ness Islands, also in Inverness, was visited by members of Highland Paranormal earlier this month. In an interview with the Inverness Courier, the group said it had detected the presence of a woman and strange lights.
A spokeswoman for the group said its activities has picked up an international following through the internet.
She said: "There are some people who love the adrenalin of being scared.
"Our Highland Paranormal Facebook page has over 5,000 people worldwide following our events and notices. We have a fan page set up on Facebook so that we can keep up with demand."
She added: "We have a good number of paranormal tourists which come over from different countries to go on investigations as holidays."
Another group, Scottish Paranormal, receives requests about once a month for private home investigations.
Its investigators use infra red cameras, voice recorders, beam alarms, electromagnetic field meters and digital thermal laser guns that measure surface temperatures.
They can spend weeks examining a property and then analysing readings and footage recorded. In most cases they are able to reassure households with a less than scary explanation to the strange noises or chills that had unsettled them. In some cases, horror films and reality TV shows have left the home owner spooked by things going bump in the night.
But Scottish Paranormal's Mary Cunningham said there were instances that remained unexplained, including voices picked up on audio equipmentset up in Mary King's Close in Edinburgh.
Ms Cunningham believes people will always be interested in the unexplained.
She said: "With exposure of the paranormal, especially on TV, we have more people coming forward to talk about it and their own experiences without getting classed as a crazy person.
"It's much more accepted today in our society than it ever was. I don't think there will ever be a decline in the interest of the paranormal because lots of people - like myself - are naturally curious about such things. It's in our human nature."
Dr Donna Heddle, director of the University of the Highlands and Island's Northern Isles' Centre for Nordic Studies, said Scottish literature reveals a long established fascination in the supernatural and paranormal.
In February, she delivered a lecture called Selkies, shapeshifters and sex at Glasgow's Celtic Connections.
It explored ballads such as Tam Lin, which involves a fairy queen's curse, and the works of Robert Burns. Just weeks before her lecture, Burns' haunting tale Tam o'Shanter had been voted Scots' favourite work by the bard.
Dr Heddle said that in literature the supernatural offered an escape into a less ordered universe where neither the laws of time and space, nor society's expectations of how men and women should behave applied.
"Women become empowered and men can live out their fantasies about sexually voracious women who desire them," she said.
Dr Heddle added: "There is always a fascination with the manipulation of narrative - and I do enjoy that about supernatural ballads - although, being from the Scottish tradition, they all seem to end badly."