Highland gritters to relay road temperatures in winter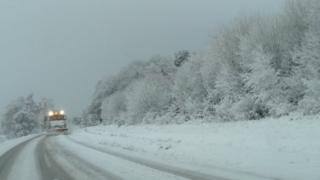 Devices fitted to gritters will give Highland roads staff "real time" information on road temperatures and how much salt the vehicles spread.
Highland Council has equipped six of its road clearing vehicles with tracking gear for this winter.
The equipment in the trial project will record direction of travel, location and salt output.
Devices on two of the lorries will also be able to relay information on road surface temperatures.
Roads bosses have set out what preparations are being made for this winter in a report to Thursday's transport, environmental and community services committee.
In the paper, the officers said more than 200 workers would be available for clearing roads and pavements.
The local authority has a fleet of 114 gritters and is planning to stock 65,000 tonnes before the start of winter.
Highland already has stocks of 40,000 tonnes that were not used last winter.