Inverness bakery raises funds for Scot's tennis training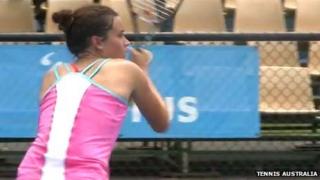 A young tennis player's parents have opened a bakery in Scotland to help fund her training in Australia.
Alan and Diane Wallace have returned to their home town of Inverness to run the business.
Their daughter Isabelle, 16, still lives in Melbourne, Victoria, where she trains and competes.
Her parents said sports facilities and tournaments were on Isabelle's doorstep in Australia, but were lacking in Scotland.
The teenager has committed to represent Australia for the next three years, before she reaches the next stage in her career.
Mr Wallace said: "There wasn't really anything on offer in Scotland for Isabelle.
"When she was in Inverness, we were travelling down maybe two or three times a week to Stirling in all weathers.
"We were also driving down to England for tournaments. She wasn't enjoying it. She has everything on her doorstep in Melbourne."
Mrs Wallace said it was hard to be separated from their daughter.
She added: "But she is on a mission to do what she wants to do."