Pupils 'adopt' Plockton railway after litter complaints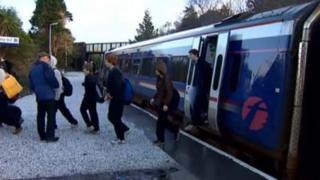 Schoolchildren have taken responsibility for keeping a railway station tidy after complaints about some pupils dropping litter.
Train services are used by youngsters living in surrounding areas to get to Plockton's high school.
However, the mess left by some of the pupils had upset villagers.
In an innovative move to improve community relations, schoolchildren have "adopted" the station and play a part in its upkeep.
Cameron Kitson Jones, chairman of a committee that makes sure visitors get a good first impression of the west Highland village, said some of the pupils had organised themselves into groups of litter pickers.