Community bids for Applecross and Mount Stuart trusts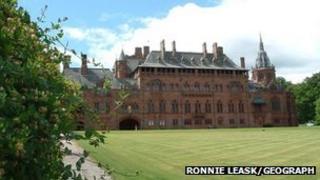 Campaigners have challenged two land-owning charitable trusts to open up their membership to local residents.
Land Action Scotland said that if successful, the move would see the Applecross and Mount Stuart trusts placed into community control.
The Mount Stuart Trust owns 28,000 acres (11,331ha) on the Isle of Bute.
It said it would consider the membership applications, but added its regret that the good work it had done in the area had not been recognised.
More than 90 applications for membership rights have been delivered to the Registered Offices of the Companies in Edinburgh requesting membership rights to the two trusts.
The Applecross Trust owns 61,000 acres (24,685ha) of the Applecross peninsula in Wester Ross.
Andy Wightman, co-ordinator of the new campaign, said the aim was to democratise companies that were run by a handful of people who did not live on the land involved.
He said: "They exert enormous influence over the local communities of Bute and Applecross and yet they remain in the exclusive control of a handful of people who to date have shown no interest in extending participation to local residents."
David Cameron, of Community Land Scotland, said the campaign was an interesting development.
He added: "It is one of Community Land Scotland's fundamental principles that community landownership must come from the communities themselves.
"Therefore if the community of Bute and the community of Applecross are in favour of this initiative as a means to ultimately secure community control for themselves, then we will support them."
Connie Lovell, chief executive of the Mount Stuart Trust, said applications for membership would be carefully considered.
She said: "It is deeply regrettable in our view that the achievements of the trust and what is provided for the public good is not recognised in any way by the campaigners.
"The fact that over 100 people are employed by the Mount Stuart Trust on Bute over the course of a year is ignored. The fact that Mount Stuart is a significant tourist destination delivering benefit to the island year in, year out, is not acknowledged."
Ms Lovell added: "The trust is fully aware of the sensitivities over land ownership and estate management in Scotland. The board will continue to engage in that debate in a constructive way whilst acting in the best interests of the charity in fulfilling its primary purpose, the preservation of Mount Stuart for the public."