Conservation work suggested for Lochindorb Castle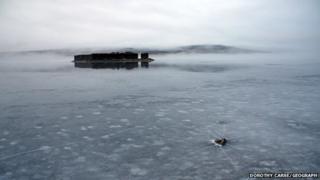 The ruined stronghold of a notorious 14th Century lord who was known as the Wolf of Badenoch could be in line for conservation work.
From Lochindorb Castle in the Highlands, Alexander Stewart and his forces made a raid across Moray and destroyed Elgin Cathedral in 1390.
A scheduled ancient monument, the fortification was built on a small island on a loch.
A wind farm developer said it could fund work to the castle's walls.
Infinergy has proposed constructing a 17-turbine wind farm at Tom nan Clach, near Tomatin, seven miles (11.2km) away from the castle.
The project is a joint venture with Cawdor Estates, which owns Lochindorb.
Funding for the conservation work would only be available if the wind farm gets the go-ahead.
Stewart was known as Alasdair Mòr Mac an Rìgh - Great Alasdair Son of the King - in his lifetime. Later, following his death he was given the wolf nickname.
King James II ordered that Lochindorb be destroyed in 1458.