Bunker mentality: The Cold War bunkers still in use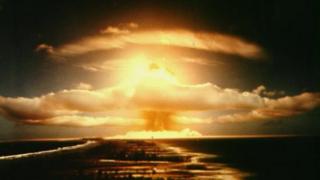 It is 50 years since the Cuban Missile Crisis and more than 20 years since the break-up of the Soviet Union marked the end of the Cold War. So, why are underground nuclear bunkers from that time still in use today?
During the Cold War, the UK government ordered the construction of thousands of underground complexes.
Almost 1,600 nuclear monitoring posts and 36 control posts for military and civil defence purposes were built across the UK between 1955 and 1965. In the 1980s, the government also funded a programme to create emergency centres that led to some local authorities building bunkers.
Following the collapse of the Soviet Union, the majority of the monitoring posts were locked up. Today, some are museums, others vandalised and flooded ruins while many more have been filled in, or remain locked and untouched since the day they were abandoned.
However, more than 20 years on there are nuclear shelters that are still being actively put to uses by Scottish local authorities.
Aberdeenshire Council has two, one below its Gordon House offices in Inverurie that was built in 1982 and another constructed in 1988 below Arduthie Road in Stonehaven.
Dumfries and Galloway's bunker under Carruthers House in Dumfries dates from 1963 and Orkney Islands Council's was built in 1986 as part of an extension to existing offices.
The old Stirling council built a civil defence centre under a social work building in Buchanan Street, Balfron, in the early 1960s.
But Highland Council's bunker is the granddaddy of them all.
The Raigmore bunker, in Inverness, started life in 1941 as part of a secret RAF radar station.
During World War II, it was what was known as a filter block where air force personnel processed information gathered by radar stations strung along the Scottish coast.
The council structures share similar features and designs - reinforced concrete, steel blast doors, decontamination chambers, communication rooms, dormitories and generators to provide electricity.
But they have been put to different uses.
Aberdeenshire's Stonehaven bunker is now storage space, while the one under Gordon House is used by working groups and for committee meetings.
The thick blast doors on the entrance to the Inverurie complex were permanently fixed in an open position in 1992, a clear sign at the time of the relaxation in tensions between the East and West.
Orkney Islands Council also uses its bunker as a meeting room and has kitted it out with video conferencing equipment.
Both Highland and Dumfries and Galloway run their subterranean complexes as emergency centres.
Council and emergency services officers met at the Dumfries bunker during the 1988 Lockerbie disaster. It was also used during 2001's foot and mouth crisis and for contingency planning when severe winter weather hit in 2010 and 2011.
Highland Council's Raigmore facility is where the local authority, police, fire, ambulance service, coastguard and the military can come together to co-ordinate responses to disasters.
In recent times, personnel met at the bunker when flash flooding struck Inverness in 2002, also after a freighter carrying 84 tonnes of diesel and 3,300 of zinc concentrate ran aground on the Summer Isles in 2003 and in 2010 after a container holding detonators exploded in Inverness.
Andrew Denovan, an emergency planning officer at Highland Council, said the bunker, which today is surrounded by housing developments, remained an asset in modern times.
He said: "The bunker - as an ex-Cold War facility - lends itself very well to being the council's emergency centre in the 21st Century.
"For a start, and with business continuity in mind, it is important that the council's emergency centre is not co-located with the main council offices, for if an incident were to affect these buildings it would also make any emergency centre situated there unusable.
"Located on the other side of Inverness, on land that cannot flood, and with easy access from both the A9 and A96, the bunker provides the council with resilient, alternative accommodation."
The Raigmore bunker has 60 rooms, generators if there is a power cut and its own radio mast. If digital communications are disrupted, the site can switch to analogue technology with assistance from the Radio Amateurs' Emergency Network.
Mr Denovan added: "It is discreet and yet well-known by those need to attend it.
"Although there is no reason to keep the bunker secret today, it is very well hidden by the trees that surround it."