Stirring win at World Porridge Making Championships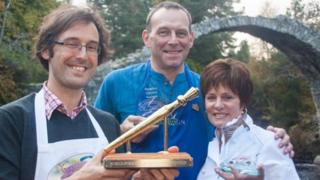 British expat Benedict Horsbrugh has won the 19th annual World Porridge Making Championships at Carrbridge in the Highlands.
The 45-year old, originally from London but now living in Germany, took home the Golden Spurtle award for making a perfect bowl of porridge.
Last year's champion, John Boa from Edinburgh, failed to retain his title but did win the People's Choice award.
People from as far afield as America and Sweden entered the contest.
Competitors were whittled down to a final 16 entrants, who battled it out in the final on Saturday evening.
The Golden Spurtle is awarded to the porridge maker deemed to have made the best traditional porridge using oatmeal, salt and water.
A spurtle is a rod-shaped tool, traditionally used to stir porridge.
Mr Horsbrugh, originally from Twickenham, said he started making porridge to provide a "good and solid" breakfast for his three daughters, who then encouraged him to enter the competition.
The yearly event is held in the village hall in Carrbridge, and past recipes have included the use of curry powder, sausages and seafood.
The competition precedes World Porridge Day, an international day to celebrate the breakfast favourite.
Porridge-themed fundraising events will take place across Scotland in aid of Mary's Meals, a charity which helps to feed more than 500,000 of the world's poorest children.