Schmallenberg virus: SBV detected in Orkney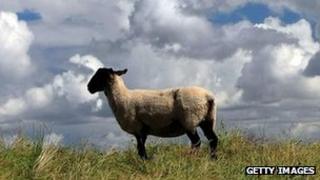 A virus that affects cattle and sheep has been detected in Orkney, it has emerged.
The National Farmers Union of Scotland (NFUS) said a ram transported from Shropshire had tested positive for Schmallenberg virus (SBV).
It causes fever in adult cattle, although the animals do recover, and congenital disorders in lambs.
The disease, first identified on German and Dutch farms, is not thought to pose a risk to humans.
Livestock producers have been advised to test animals imported from SBV-risk areas.
However, the NFUS added that it was unlikely, given the recent cold weather, that the disease would spread.
Borders and Dumfries and Galloway farms were advised to be vigilant to SBV last week.
'Not complacent'
Rural Affairs Secretary Richard Lochhead said the Scottish government was aware that a ram had tested positive for SBV.
He said: "Schmallenberg is a relatively low impact disease. However, this discovery reinforces the Scottish government's message that farmers should maintain good biosecurity, source stock sensibly and seek veterinary advice if they have concerns about the health of their stock."
Mr Lochhead added: "Although only one case has been found in Scotland, the Scottish government is not complacent.
"We are working in partnership with industry to put in place proportionate surveillance measures to detect the disease."
SBV spread via midges throughout parts of Europe and southern England last year.
It causes relatively mild conditions in cattle and sheep, but where infection takes place during the early stage of pregnancy it can result in congenital disorders of lambs and calves, stillbirths and abortions.
The Department for Environment, Food and Rural Affairs (Defra) reported last week that positive samples had been found on farms in North Yorkshire and Northumberland.