Readers' suggestions to beating Kessock Bridge works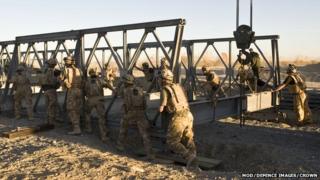 Last week, BBC News Scotland online asked for ideas to how people might beat travel disruption caused by months of work to the Kessock Bridge at Inverness. In response, readers have offered both practical and fun suggestions.
The crossing, which carries the A9 over the Beauly Firth, is used by about 30,000 vehicles every day, according to Transport Scotland.
The traffic is made up of commuters travelling from the Black Isle and Ross-shire to work in Inverness, tourists and freight - 11%, or 3,300, of vehicles crossing the bridge are HGVs.
Transport Scotland is warning motorists to expect significant disruption during resurfacing work planned for February and June 2013. Further works are planned from February to June 2014.
While the bridge will not be closed completely to traffic, the agency hopes commuters will make greater use of public transport to help minimise congestion.
Yvonne, of Culbokie, on the Black Isle side of the Kessock Bridge, has suggested setting up a park-and-ride scheme at Tore, or at North Kessock, to make it easier for people to use buses.
Bicycles to beat congestion was also mooted.
Karin Forbes, of Cullicudden, near Dingwall, said her partner took to pedal power when parts of the bridge were closed for emergency repairs last year.
She said: "I suggest that bicycle sheds with CCTV cameras should be set up, so that people could drive to the Kessock Bridge, leave their car and get on their bicycles and cycle into Inverness, and in the evening cycle back again and leave the bicycle in the shed overnight until the next morning, when they will do the same again.
"Of course this would require safe cycle lanes over the Kessock Bridge. It would also require car parks on both sides of the bridge where people could leave their cars."
Ms Forbes added: "You can find these secure bicycle sheds all over the continent, and I personally would love to cycle to work, but I live too far from Inverness.
"If I could take my car to the Kessock Bridge, or somewhere close to it like North Kessock, and leave it there it would be fantastic, not only when the bridge is being re-surfaced."
Community project, Transition Black Isle, has been offering free advice and support to "rusty, or inexperienced" cyclists as part of its efforts encouraging greater use of bicycles on the Black Isle.
Catriona Ross, from the project, said it would be starting a "buddying" scheme soon which will team up less confident riders with experienced cyclists.
She said: "Folk can get the hang of the commute from the Black Isle to Inverness with an experienced cyclist - a great, sociable way of keeping fit, cutting costs and beating the jams on the bridge.
"An electric bike is another great way to get around and beat the traffic for those daunted by the thought of lots of unaided pedalling."
Donald Elliot, from Central London, said the road works could be done at night, or there could be a temporary reintroduction of the ferry service that ran between North and South Kessock before the bridge opened.
Gordon Anderson, in Kamloops, Canada, also proposed using a ferry.
He said: "There is a slipway at the end of Kessock Road in South Kessock and one off Main Street in North Kessock. Why not put them to use again?
Mr Anderson added: "It is also possible that the military could use this as an opportunity to practice using assault bridge sections as ferries as part of an exercise."
'Holding planks'
Murray Welsh commuted from Dingwall to Inverness by car every day, before moving to Austria.
He said: "In Vienna, they have only one bridge over the Danube river for the autobahn, which for resurfacing work, you think would cause a problem for a city of two million.
"But no problem, they do resurfacing work under a hump-like bridge structure that goes over the road bridge. Cars can drive over as the resurfacing work goes on underneath little section by little section."
North Kessock-based artist and illustrator, Susan Phillips, has another novel solution - commuters on water skis pulled by the firth's bottlenose dolphins.
Another reader calling themselves Ben Wyvis (a mountain near Dingwall) jokingly claimed that King Robert the Bruce enshrined in law Highlanders' right to a bridge over the firth.
If the bridge was ever out of action, Bruce had ordered that councillors "shall wade into the firth holding planks made from Scots Pine above their heads so they may provide a safe crossing".