Screen machine mobile cinema's carbon footprint studied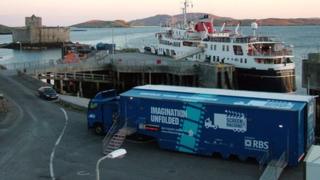 Research is to be carried out into the carbon footprint of Scotland's mobile cinema, the Screen Machine.
Set up in 1998, the cinema travels an estimated 13,000 miles a year to reach more than 30 communities.
The study of the vehicle's impact on the environment has received National Lottery funding.
The Screen Machine goes to communities in the Highlands and Islands, such as Barra and Gigha, where there is not a large cinema nearby.
Director Ron Inglis said: "We know that many of our customers wait for Screen Machine to come to them rather than driving to larger cinemas, thereby reducing carbon emissions.
"Now we can monitor our own impact on the areas we visit."