NTS seeking £250,000 to look after 'Skyfall landscape'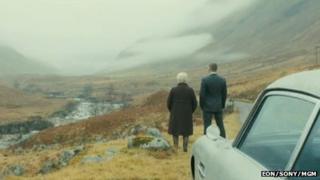 The National Trust for Scotland has sought new funds to help it look after landscape that was used as backdrop for new James Bond film Skyfall.
NTS has appealed to its members for donations to pay for almost £250,000-worth of upgrades to a path, bridge and visitor centre at Glencoe and Dalness.
The trust said that in 2013-14 it expected to spend £600,000 in total looking after its areas in Glencoe.
Scenes with actors Dame Judi Dench and Daniel Craig were shot in the area.
Anna Preuss, NTS's filming manager, said last month that the film's crew were "absolutely blown away" by the landscape and red deer stags that appeared during the shoot.
The upgrades are planned for the next two years.
NTS said it had planned to spend £140,000 on a replacement boiler for the visitor centre, but a cheaper repair had been done instead.