Prestwick Royal Navy chopper's race against time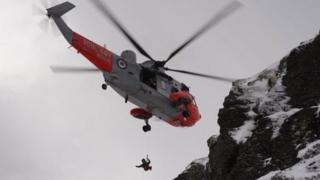 A Royal Navy helicopter has lifted three walkers to safety shortly before it would have been grounded due to bad weather.
The walkers raised the alarm after getting lost on Buachaille Etive Mor in Glencoe shortly after 17:00 on Sunday.
They were airlifted from two ledges, with the helicopter having to hover with its blades just 6ft from the rock.
The rescue was completed just half an hour before freezing rain meant it would have been too dangerous to fly.
The three walkers became disorientated in sub-zero, snowy conditions on the 3,353 feet peak.
All were experienced, well equipped and familiar with the peak, but took an incorrect turn on the route and become lost.
Their distress call went in to Fort William police at 17:03 and the four-strong crew from HMS Gannet in Prestwick was airborne from their Ayrshire base at 17:29. The mountain rescue team for Glencoe was also alerted.
The crew knew it was facing a race against time to rescue the climbers, with forecasters having told them it would be too dangerous to fly after 19:00 because freezing rain was expected.
The helicopter's navigator, Lt Angela Lewis, said: "We are used to flying in pretty much all conditions possible, but there are one or two types of weather which we just simply cannot operate in - and freezing rain is one of these.
"Our forecasters were aware of a prolonged threat of freezing rain last night and, as a routine course of action, we had determined a time past which it would no longer be safe to get airborne.
"Obviously our three climbers couldn't have known what a close shave they really had. We were coming up to the no-fly window and we also knew that once we got in to Glencoe, we would be unable to get back out as our window would have closed.
"It was pretty much a case of you've got one chance to have a go at this, we'd better get it right first time.
"Fortunately the group had torches with them which they were able to shine for us as soon as they heard the helicopter's rotors approaching. We were guided straight in to them."
Very cold
The ledge on which two of the three had become stranded was tightly tucked into the mountain face, meaning the pilots were forced to put the 9.5 tonne aircraft into a hover very close to the rock - as close as 6ft away from the rotor blades at times.
The other climber was on a second ledge about 25ft above.
Petty Officer Taff Ashman, a trained paramedic and the crew's winchman, made three difficult descents to pick up each member of the group.
The rescued climbers were all very cold, but did not require any medical treatment.
They were put in the care of police at the landing site at Kings House in Glencoe - where the helicopter crew had to spend the night because the weather was too bad for them to take off again.