Happy Hoggo-nott?: The 'lost' meanings of Hogmanay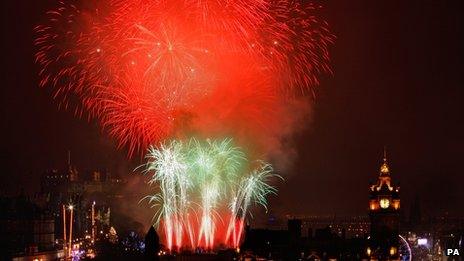 Some traditions and meanings of Hogmanay are being lost, according to Dr Donna Heddle, director of the Centre for Nordic Studies at Orkney and Shetland College UHI. Here she explains why first footers should be a tall dark stranger and the meanings behind other end of the year rituals.
The word Hogmanay is thought to have first been used widely following Mary Queen of Scots' return to Scotland from France in 1561.
Dr Heddle said: "That is when it is first recorded in dictionaries. It is of doubtful origin and may come from the French word 'hoginane' - gala day.
"The name could come from the Anglo-Saxon 'haleg monath' meaning holy month.
"But the most likely source seems to be French. In Normandy presents given at Hogmanay were 'hoguignetes'."
Dr Heddle said there may also be a Scandinavian influence via 'hoggo-nott', meaning yule.
Hogmanay is regarded by some in Scotland as a bigger celebration than Christmas.
Dr Heddle said a reason for this were historical religious conflicts over whether Christians should mark Christmas Day.
She said: "In Scotland, Christmas was virtually banned for 400 years."
Back in the 16th Century, during the Reformation, Protestants discouraged the celebration of what they saw as a Catholic festival that had no justification in the Bible.
Reasons for and against the celebration of Christmas Day continue to be set out by churches today.
However, on its website the Free Presbyterian Church of Scotland says Christ's date of birth is disputed and to link it to 25 December is wrong. They also say Christ and early Christians did not celebrate anything that could be described as Christmas.
Hogmanay, meanwhile, has grown as a celebration.
Dr Heddle said: "Hogmanay is traditionally the bigger celebration in Scotland and today is still a day that Scots are passionate about.
"Traditionally, it allowed you a clean slate for the year to come so you paid all your debts and tidied your affairs.
"During the day on Hogmanay was when you cleaned your house ready for when visitors would start arriving at night and the following day.
"Women were expected to have the ashes cleaned out of the fire, the house tidied, have the home baking made and then look delighted when the visitors started coming round."
She added: "For couples, Hogmanay was also a popular time to get married. It is a liminal period - a time of change from old to new."
The ritual of first footing is disappearing, according to Dr Heddle.
A first footer is the first guest to arrive at a home after midnight, and traditionally fitted a certain "type".
"It had to be a tall dark stranger," said Dr Heddle.
"This may go back to the time of Vikings when the arrival of a blond stranger at your door would be the cause of fear and alarm."
She added: "First footing is a tradition that has been falling out of fashion. People are staying in to watch the telly, or are going to street parties and not then going out first footing.
"There are no longer those scenes you see in the pages of Oor Wullie and The Broons, of families being first footed and celebrating the new year with ginger wine."
First footers are also required to take specific gifts - a lump of coal, salt, shortbread, a rich cake called black bun and whisky.
Dr Heddle said: "All these gifts were symbolic wishes for the new year to come. Coal for heat, whisky for good cheer and hospitality, while shortbread and black bun, a rich cake, symbolised good food all year.
"Salt is particularly significant. Salt is a symbol of friendship. Traditionally, hospitality is referred to as sharing bread and salt.
"That is why so much outrage surrounds the Massacre of Glencoe. Bread and salt had been shared and it was taboo to do anything that harmed that gesture of friendship."
Fire is an important feature of Hogmanay, said Dr Heddle.
The seaside town of Stonehaven in Aberdeenshire holds a fireball ceremony where as many as 45 people swing chicken wire-wrapped balls of burning coal, wood and fir cones down the High Street.
Another new year ceremony, the Burning of the Clavie in Burghead in Moray, is held on 11 January.
Dr Heddle said the use of fire had its roots in pagan rituals and symbolised the Sun during short, dark winter days.
She added: "Fire purified things. The popularity of setting off fireworks at new year can be traced back to that idea of fire purifying."
Related Internet Links
The BBC is not responsible for the content of external sites.