Rescuers return to scene of US F111 jet crash on Skye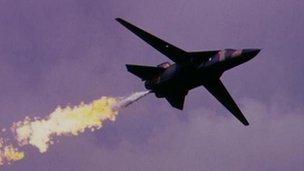 Men involved in the search for survivors of a US military jet crash returned to the site to mark the 30th anniversary of the fatal accident.
Maj Burnley Rudiger, 37, and Lt Steven Pitt, 28, died when their F111 fighter bomber went into Sgurr na Stri, a small hill on Skye, on 7 December 1982.
Former RAF Kinloss personnel involved in the search and recovery operation walked to the site over the weekend.
They laid poppies at the scene of the crash.
The group that made the trek to Sgurr na Stri included former RAF Kinloss Mountain Rescue Team members Allan Tait, Ian Kelly and David "Heavy" Whalley.
Relatives of the US air crew gave their blessing to the venture.
Pilot Maj Rudiger, from Norfolk, Virginia, and weapons systems operator Lt Pitt, of East Aurora, New York, were on a training flight from RAF Lakenheath in Suffolk in the F111, an all-weather fighter bomber capable of supersonic speeds. The type of aircraft was flown by the US Air Force until the late 1990s.
A shock wave from the explosion almost destroyed a bothy at Camusunary where three climbers were spending the night.
The jet was not armed, but aviation fuel caused a fire to rage for a time on Sgurr na Stri.
Related Internet Links
The BBC is not responsible for the content of external sites.