Rise in sick days at Comhairle nan Eilean Siar 'a concern'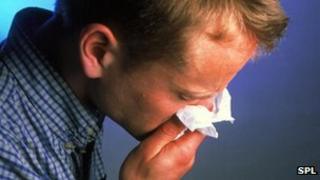 Rising levels of sickness absence among a local authority's workforce has been flagged up as an area of concern by a public services watchdog.
Comhairle nan Eilean Siar had the lowest levels across all Scottish councils in 2007/08.
But the Accounts Commission said the numbers of days off taken by staff has been increasing since.
A new report for the commission shows the figure is now at 13.8 days. The Scottish average is 10.4 days.
The report by Audit Scotland said absence levels for teaching staff has decreased from 10.0 days in 2008/09 to 7.8 days in 2011/12.
However, the figure is still above the Scottish average of 6.2 days.
The Audit Scotland report said: "The report notes that the comhairle is not clear what the underlying cause is for the increase in sickness absence, and that while quarterly reporting on sickness absence has started this is not done consistently across departments.
"The comhairle acknowledges these findings, and is in the process of upgrading the payroll and human resources system and processes to enable analysis and monitoring systems to be implemented."
'Needs to improve'
The Accounts Commission said the comhairle had to address the rising number of sickness absences.
It also said it must improve on the rate of completions of staff appraisals and gauge customer satisfaction with it services more effectively.
The commission said the comhairle had made progress over the past year in areas such as finance and performance management.
Chairman John Baillie, said: "We recognise the progress made by Comhairle nan Eilean Siar in some areas.
"We are encouraged by improvements in finance and managing performance. The new performance management system has the potential to really assist councillors, and this potential is not yet being fully realised.
"However the lack of progress in other areas causes us concern.
"Significantly, the comhairle needs to improve how it manages its workforce and deliver the improvement plan it put in place in response to the findings of a staff survey. The comhairle needs to increase the pace of change and momentum of improvements."
The comhairle said it welcomed the report's recognition of where progress had been made.
Leader Angus Campbell said: "The comhairle has come a long way in terms of improvement but I and my colleagues recognise that there is still work to be done.
"The comhairle is committed to increasing the momentum of improvement. We recognise that this report is a baseline and are determined to make good progress on areas of concern."