Farr High School in traditional beach shinty match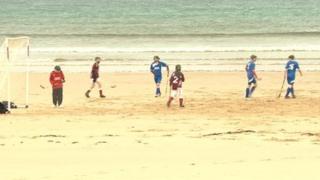 School pupils have continued a tradition of playing shinty on a beach at Farr in north Sutherland.
Dating back to before World War I, a match was traditionally held to celebrate a new year.
The game, which could involve up to 100 men, died out after the end of the war.
Pupils and staff at Farr High School revived the event eight years ago and play it every year on the last day of school before the Christmas holidays.
The pupils played the match earlier this week.
Youngsters from the east side of Sutherland's River Borgie took on pupils living on west.
The full story on the match's revival will be shown on BBC Alba news programme An La from 21:30.