York students to shoot war film in Caithness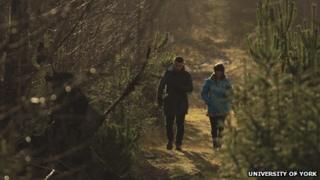 Students from the University of York are to shoot their graduation film in Caithness.
Called A War Story, the 25 minute short film set at the outbreak of World War I will involve more than 20 crew and cast members.
Locations will include Dunnet Forest, the most northerly community woodland on the British mainland, and Wick Territorial Army Hall.
Filming will take place from 1 to 10 February.
A War Story will tell of a young man signing up for the Army. His actions spark a feud in his half-British, half-German family.
The students plan to show the film at festivals next year, the 100th anniversary of the start of World War I.
Producer Ian Packard said: "The production will host Hollywood standard equipment such as cameras and lights.
"Another interesting point to the film is that we are shooting on a camera called the Red Epic, which is as good as it gets in the digital cinema world at the moment - Peter Jackson used it on The Hobbit."
He added: "We have been overwhelmed by the generosity and support provided by the people of Caithness - everybody has been hugely generous and helpful putting this production together."
The Highlands has a history of war-time set films and film production.
A British propaganda film was shot in Portmahomack, Easter Ross, in 1942.
Before the Raid was made for the Ministry of Information and released in cinemas in 1943.
It was directed by Prague-born Jew Jiri Weiss, who was forced to leave what was then Czechoslovakia when Germany took over in 1938, and it shows a Norwegian village under occupation.
The shooting of it caused a stir in the tiny Highlands fishing port - especially the sight of cast members dressed as German soldiers - but those who volunteered to be extras in it and residents watching from the sidelines were under strict instructions not to talk about the film.
Also during World War II, a major in a light anti-aircraft troop filmed its journey from Dundee to Aultbea in Wester Ross using a pinhole camera.
For security reasons the 25 minute-long film was sent to the US to be processed and it remained in America until the end of the war.
It is now held in Dingwall Museum's archive.