Traditional skills 'being lost' in Highlands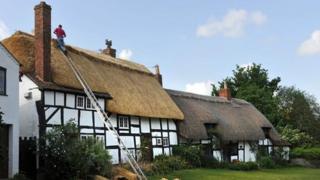 Traditional skills such as thatching roofs have been lost in the Highlands, according to a council document.
The crafts are still needed for carrying out repairs to historic properties.
Highland Council officials said the integrity of such sites could be harmed if non-traditional materials and techniques were used.
They said thatchers from the south of England had to be called upon to carry out a recent repair project.
The concerns and a number of recommendations are contained in supplementary guidance to the council's Highland-wide Local Development Plan.
Councillors will be asked to formally adopt the guidance at a meeting next week.
'Far south'
In the document, officers said there was a national shortage of people with traditional skills.
The officials said: "This trend is reflected across Highland where there is a significant lack of skilled tradesmen and women to adequately complete appropriate works to historic buildings and structures."
They later added: "It has recently been necessary for thatchers to be brought from the far south of England to Highland to complete works on a local roof.
"The necessary skills for thatching have traditionally been available in Highland and historically the financial investment in the building would have supported the local economy."
The recommendations include the development on an online register of people with the knowledge of traditional crafts, and suggest that an effort should be made to employ them.
The document also encourages the use of locally-sourced building materials, rather than bringing it in from elsewhere, when repairs are made to historic sites.