Bid to restore music machine 'built for Queen Victoria'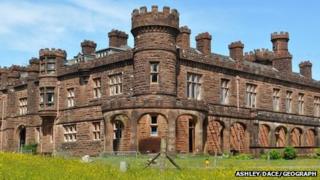 An appeal is being launched to raise funds for the restoration of a music organ believed to have been made for Queen Victoria.
The monarch died before the orchestrion, a machine designed to sound like a full orchestra or a band, could be delivered.
The rare instrument is in a collection of artefacts at Kinloch Castle, a 19th Century property on Rum.
Kinloch Castle Friends Association is setting up the appeal fund.
It said the orchestrion was made by Imhof and Vohrenbach, Baden, in Germany, in the 1890s.
However, it could not be delivered before Queen Victoria died in January 1901.
The machine was bought by industrialist George Bullough and moved to his Kinloch Castle.
The friends association is also taking part in consultation on the future of the property, which has been deteriorating.
Scottish Natural Heritage (SNH), which owns the castle and most of the land on Rum, has spent £1m on repairs.
But the agency said the local weather was taking its toll on the sandstone building and has sought views on its conservation.
Sarah Bentley, SNH's operations manager for Rum, said: "While the nature reserve on Rum is a big attraction for people wanting to come and enjoy the wildlife, Kinloch Castle is also a big attraction.
"It is a time capsule of the Edwardian era that never ceases to amaze our visitors.
"The principal rooms have changed little since the Bullough family left and house an extraordinary collection of artefacts. We have been trying for many years to secure resources to restore the castle to its former glory, but the scale of funding required has not been available."
Kinloch Castle Friends Association has welcomed SNH's consultation on the castle.
Chairman Prof Ewan Macdonald said: "We appreciate the substantial work commissioned by SNH in recent years but much more needs to be done and its long term future secured. So we welcome this consultative approach and will take an active part.
"We are separately creating a public appeal for funds to restore the rare orchestrion."