Highland Council makes jobs, homes and business target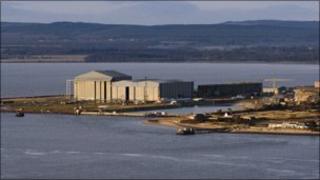 Highland Council has revealed that it hopes to help create 5,000 new jobs, build 5,000 new homes and support the launch of 1,000 new businesses by 2018.
Those are the targets contained in its draft plan to aid economic recovery in its area over the next five years.
Council leader Drew Hendry said: "This is not pie in the sky.
"In difficult times, we need to be the ones making sure that we are setting the right environment for people to come in and make a difference here."
Stressing that he believes the long-term targets are achievable, Mr Hendry pointed out that work had already started.
"The council has already got propositions to build at least 600 houses that will add towards our house building," he said.
"We have seen in Nigg the announcement of up to 1,200 new jobs."
The local authority supported efforts to have the Nigg fabrication yard in Easter Ross fully reopened after years of decline.
Under a new owner, the site is creating jobs to carry out oil rig refits and handle renewable energy contracts.
Earlier this month, Highland Council also gave its backing to a tidal energy project planned for the Pentland Firth.
The council said it hoped the scheme would bring significant economic benefits to Caithness and North Sutherland.
Its five-year plan will be sent to the Scottish government and Highlands and Islands Enterprise for consideration.