TV crew in bid to film Liam Aitchison murder trial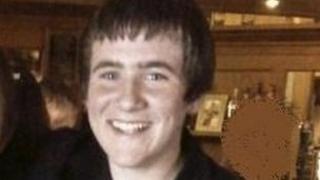 A documentary crew has sought permission to film the trial of two men accused of murdering Western Isles teenager Liam Aitchison.
Johnathan MacKinnon, 22, of Elgin, and Stefan Millar, 21, of Inverness, deny killing the 16-year-old in Lewis in November 2011.
Windfall Films wants to film the trial, which is due to start next month at the High Court in Glasgow.
The Scottish Courts Service confirmed an application had been made.
A hearing is expected to take place later this month before Judge Lord Kinclaven for permission to be formally granted.
Windfall Films covered the re-trial of Elgin man Nat Fraser. He was convicted for a second time in May of murdering his wife Arlene.
The programme makers had previously failed in a bid to record a trial at the High Court in Glasgow.
Cameras and equipment had been rigged up to cover the case of Robert Henderson, who was accused of killing Hugh Boyd at a flat in the city's west end in 2009.
However, permission was later denied when the victim's family withdrew their consent to being involved.
It has been alleged that Liam, from South Uist, was murdered at a property in the Steinish area of Lewis on 23 November 2011.
The trial is expected to last three weeks.