Kessock Bridge roadworks: What motorists should expect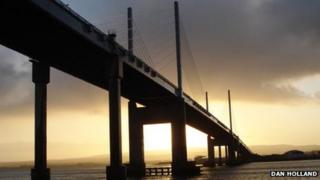 Almost five months of roadworks are set to start on the Kessock Bridge at Inverness. Transport Scotland and Highland Council have released details of what motorists can expect during and after the work.
When will it take place?
A £13m programme to upgrade the crossing will be carried out between 11 February and June this year, and between February and June 2014.
Cones will placed on the bridge from 22:00 on 9 February ahead of the work.
Transport Scotland said that the use of state-of-the-art materials means the bridge - which opened in 1982 - will not require major work for another 30 years.
Jam-busting
Regular users of the bridge have been warned to expect some disruption.
Emergency repairs were carried out to the bridge in 2011, which had sparked fears that there could be delays of up to 75 minutes.
However, commuters were praised for heeding advice on how to avoid congestion and hold-ups were initially restricted to just 10 minutes. Delays of 20 minutes were reported later in the work.
Earlier this year, the construction of a new slip road ahead of the bridge upgrade caused major disruption for travellers heading for the city.
To tackle congestion and delays, there will be extra capacity on trains and Conon Bridge's railway station will be reopened.
Transport Scotland said there would be almost no delays for those taking the bus into Inverness during the works because of a dedicated bus lane.
A spokesman said: "With just over a week until this project begins, it is encouraging to see the community pulling together to ensure Inverness remains open for business.
"We have heard examples of employers offering flexible working to staff, local maternity clinics set up so pregnant women don't have to travel into Inverness and individuals planning to take the train or car-share to reduce the number of cars on the road."
Highland Council's leader Drew Hendry said 900 local authority staff who use the bridge were being encouraged to use public transport, car share and work from home and on flexi-time where possible.
Travel information
Motorists driving in and around Inverness during the works can access up-to-the-minute journey time information, according to Transport Scotland.
Details will be available on the website www.trafficscotland.org and journey planning information available on Twitter and via the Travelline Scotland/Transport Scotland travel app.
Shorter journey times
Transport Scotland has said that once completed, the upgrade and improvements to the layouts of nearby roads will mean shorter journey times around Inverness.
The government agency said the current journey time of 17 minutes from south of Inshes to Longman Roundabout would be reduced to six minutes.
Journeys from Tore Roundabout to Longman Roundabout will be cut from 16 minutes to 10 minutes and journeys from Friars Bridge to Longman Roundabout reduced from 13 minutes to five minutes.
Cyclists will also benefit in the wake of the bridge repairs, according to Transport Scotland.
Cycle paths will be upgraded and maintained from the Tore area, heading over the bridge and all the way to Raigmore.
Increased parapets on the bridge will separate the cycle paths from the traffic. The cycle ways on the bridge will also be resurfaced using the same state-of-the-art material to be used on the road surface.