Bristow Helicopter crews to train at Inverness Airport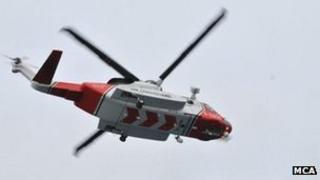 Bristow Helicopters will start training crews for a search and rescue role from Monday.
The three months of training will be done from Inverness Airport.
Bristow is preparing crews for coastguard duties at Sumburgh in Shetland and Stornoway in the Western Isles.
The company was awarded the contract by the UK government last year and it runs until the long-term future of search and rescue is secured.
After 2017, military involvement in search and rescue will cease and a new civilian contract involving 10 bases across the UK will come into force.
Helicopter operators have been bidding to take over RAF, Royal Navy and coastguard duties long-term.
The gap contract Bristow was awarded last year will see its crews formally begin coastguard work from Sumburgh on 1 June and Stornoway on 1 July this year.
The contract runs until 2017.