Kessock Bridge: HGV drivers to be reported after delays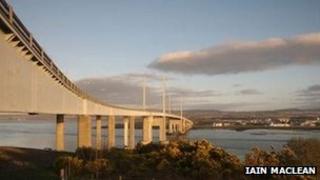 Drivers of two lorries carrying abnormal loads have been accused of causing delays on the Kessock Bridge at Inverness.
The crossing is being upgraded and measures have been put in place to help HGVs to negotiate the road works.
Other motorists complained to the police after the two lorries crossed the bridge at about 09:00.
Police said the drivers had failed to stop at a designated lay-by before being escorted across the bridge.
Northern Constabulary said a report would be made to the procurator fiscal about the incident.
Lorries carrying a load with a width of 2.9m (9.6ft) or more must stop before crossing and request an escort.
Designated abnormal load lay-bys on the approach to the Kessock Bridge are near the Munlochy junction, at Drumossie Brae, Morayhill, and Woody's car park in Inverness.
Road works will be on the bridge until June.