Mountaineering groups in joint safety message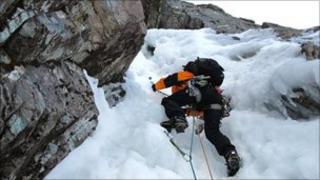 Three mountaineering bodies have issued a joint statement urging walkers and climbers to be prepared for difficult conditions in Scotland's mountains.
The British and Scottish mountaineering councils and Scottish Mountain Safety Forum said upland areas were at their most beautiful and challenging.
Their statement also comes in the wake of several avalanches that have claimed the lives of climbers.
They include three people killed in the Cairngorms last Thursday.
In the statement, the three groups said: "The benefits of recreation in the hills are numerous and widely recognised.
"Hill walkers and mountaineers find their lives are enriched by their experiences. These are best realised through planning and preparation, recognising all the challenges the journey may present.
"The BMC, the MCofS and the SMSF continue to offer advice on good practice in the hills, acting as a resource for mountaineers and hill walkers of all standards to make their visit to the mountains as safe as possible."