Crofting Commission halts owner-occupier decrofting bids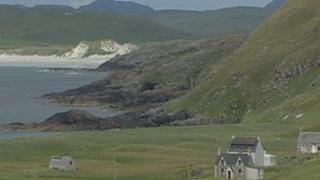 The Crofting Commission has put a halt to all decrofting applications on owner-occupied crofts following legal advice.
Decrofted land is that which no longer falls under crofting legislation and the house on it does not have to be tied to the croft.
The commission's decision has followed concerns about rules in the 2010 Crofting Reform Act.
NFU Scotland warned that the move could have series effects for some.
It said that those waiting for a decision to build a new house and crofters who want to sell off a portion of their land could be affected.
There have been concerns raised that the law allows people who own and live on their crofts to apply to the Crofting Commission to decroft all, or parts, of their land.
The commission said the worries had been expressed both outside and within the organisation.
It said it was exploring what legal remedies there were to resolve the situation.
The Scottish Crofting Federation (SCF) said ending confusion over the applications should be a priority.
Chairman Derek Flyn said: "This problem has not suddenly appeared. It is part of the 2010 Crofting Reform Act.
"The SCF brought it to the attention of Crofting Commission several weeks ago, but they have told us nothing about how and when it will be resolved - only that owner-occupier crofter applications will not be processed.
"This has serious consequences for people getting a mortgage, trying to build their house."