Scotland's first wave firm, Wavegen, in trouble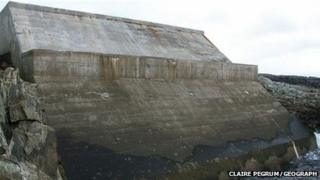 Scotland's first wave power company is facing closure for the second time in eight years.
Set up in 1990, Inverness-based Wavegen built the world's first grid-connected wave power station, the Limpet, on Islay, off the west coast of Scotland.
Wavegen was bought by German firm Voith in 2005 in a move that saved it from going under - and most of its 15 posts.
Voith has now announced that it plans to shut the Inverness operation as part of reorganisation.
The plan affects 18 workers in the Highland capital.
Voith Hydro said the closure was part of its plan to pool its wave power engineering "know-how" in Heidenheim in Germany.
Last year, the company shelved plans for a 20 megawatt wave power project on the north west coast of Lewis.
Staff at Wavegen were developing the breakwater project at Shader.
Voith said it had decided to no longer pursue the scheme due to a lack of funding and uncertainty surrounding a subsea electricity cable linking the Western Isles renewable energy project with the mainland.