Fresh debate expected on Inverness West Link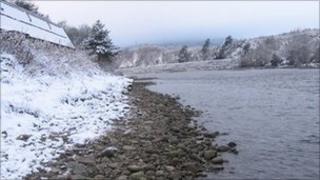 Highland Council is to look again at controversial plans for the Inverness West Link.
Five councillors have put a motion to 9 May's full council which asks for the preferred route of the road to be re-examined.
The councillors said there was new information available and also new ideas for two alternative routes.
Highland Council's ruling administration said it fully supported the route agreed a year ago.
The local authority said a planning application could be submitted in late summer.
The five councillors who have signed the motion are Jim Crawford, Roddy Balfour, Norrie Donald, Donnie Kerr and Janet Campbell.
In July last year, Highland Council gave the go-ahead for preliminary work to start on the West Link.
The scoping study examines the environmental impact of the road, which could cost £27.2m.
The local authority used delegated powers to push ahead with the investigative work.
The West Link has been proposed as a solution to city centre congestion. It would cross the River Ness and Caledonian Canal.