Skye commercial flights plan 'could cost up to £15.3m'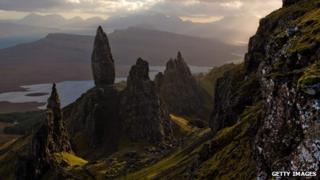 Resuming commercial flights to and from Skye could require capital spending of between £9.7m and £15.3m, a feasibility study has suggested.
Loganair flew out of the island's Highland Council-owned Ashaig Airfield, near Broadford, until 1988.
The council, transport body Hitrans, and Highlands and Islands Enterprise have been looking at the possibility of resuming commercial flights.
Costs would rise if certain upgrades were required, the study suggested.
However, investment of about £2.3m to £2.8m would only be needed if the length and width of the small runway met with the Civil Aviation Authority's approval.
Agreements would also have to be reached with the Department for Transport on security fencing, airline operators on hangars and the fire service on what facilities it would require to keep costs down.
Capital expenditure would rise if the airstrip had to meet certain standards on runways, such as length, width and requirements on runway end safety areas.
The Skye Air Services Feasibility Study looked at what would be needed before scheduled services could resume.
Consultants suggested a Twin Otter, or similar sized aircraft, could be used to bring in 14,500 passengers a year.
Tourists and islanders would be expected to use the air service.
The feasibility study suggested it could cost between £500,000 to £660,000 a year to run the airport.
The report's executive summary added: "This could be partially offset by an income of around £150,000 per annum from aeronautical revenue."
Highland Council's transport, environmental and community services committee will consider the study's results next week.
Councillors could agree to the setting up of a steering group that would involve the Scottish government and others.
The 771m-long (2,530ft) airstrip was built in the 1970s and appears briefly in a scene from the 1980 film Flash Gordon.
It was constructed as part of the Operations for Military Assistance to the Community. The scheme saw engineer regiments construct airfields as part of the soldiers' training using materials supplied by local authorities.
The military used Ashaig as part of the Inner Sound of Raasay torpedo testing range.
Loganair's scheduled air service also operated from the strip to provide a link between Broadford and Glasgow.