Council bans balloons and lanterns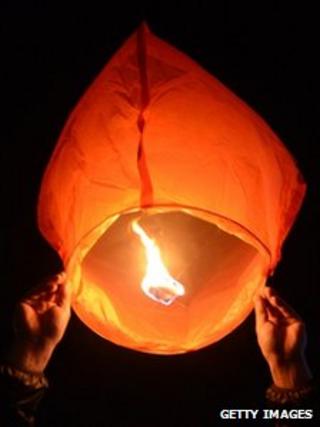 A Scottish council has banned the release of balloons and Chinese lanterns on its premises and at events it has an involvement with.
Highland Council said its staff were also not allowed to release the items while on duty.
The local authority said balloons and lanterns could cause litter problems and harm wildlife.
In 2009, Chinese lanterns were released over Inverness as part of Highland Council's winter festival.
The event raised money for charity.
Last year, the UK government commissioned a study into the impact of Chinese lanterns.
The study will investigate the level of risk lanterns pose to the environment, livestock and crops.
Farmers had been calling for an inquiry for several years, following reports of animals ingesting lanterns, or becoming trapped in them.
On its website, the Balloon Association said latex balloons were made from the sap of rubber trees and do biodegrade.
The association also has a code of conduct on the use of balloons.