Orphaned lamb found after Highlands wildfire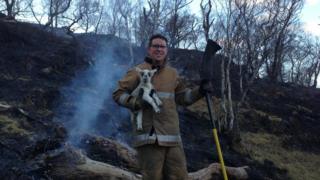 A newborn lamb has been named Smokey after it survived a wildfire between Morar and Arisaig in the Highlands.
Firefighter Neil MacKellaig came across the orphaned animal in a burnt-out area of land while crews were attending to fires in the area last week.
There was no sign of the lamb's mother, and it was very weak.
A local crofter is hand-rearing the lamb, which is said to have recovered well.
Firefighters tackled a spate of large wildfires across the Highlands last week.