Spy wear: Styling secret agents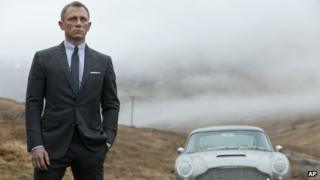 The Harris Tweed industry has celebrated the use of its hand-woven cloth in secret service thriller Argo. But what is the clothing of choice for other spies?
At this year's Oscars, Argo won three awards including best film.
The movie is based on the real-life rescue of six Americans after the storming of the US embassy in Tehran in November 1979.
While the movie industry was praising Argo's story and production, people involved in the Western Isles' Harris Tweed business were figuring out how to capitalise on the movie's prominent use of their fabric.
During a marketing campaign launch in New York earlier this month, the industry invited former CIA agent Tony Mendez to a VIP lunch.
Mendez was involved in the 1979 mission and in Argo is played by Ben Affleck.
Following the lunch, Mendez revealed his and other real-life CIA agent's agency's fondness for Harris Tweed during the Cold War.
In an interview with The Guardian, he said: "That was our uniform.
"The jackets were representative of our group. Those of us in the CIA who did overseas work, work in the field.
"If you were in the field during the Blitz, you wore a trench coat. If you were tracking Ivan (the Soviet Union and its allies), you had Harris Tweed."
The world's best-known fictional dapper dresser is James Bond.
Oscar-winning costume designer Lindy Hemming styled the current 007 Daniel Craig and his predecessor Pierce Brosnan.
She told the BBC last year: "Bond is all about luxury and glamour and all about showing people a life to which they might aspire to."
In 2008's Quantum of Solace, Craig wore suits by designer Tom Ford.
According to the website, The Suits of James Bond, the MI6 agent wears suits of midnight blue which have a "richer, deeper quality of black" than a black suit.
Ear bashing
Ten black cashmere coats were reportedly made available to Angelina Jolie for her role as a CIA agent-on-the-run in the 2010 film Salt.
It sometimes appears to be dress-down spy day when it comes to other film and TV undercover types.
BBC drama Spooks featured male characters in suits and white shirts open at the neck and no tie and women in stylish dresses, business suits, or t-shirt and jeans.
Leather gloves were a trademark of boss, Harry, and often worn when he was giving a politician an ear bashing.
Resistance fighters
Jason Bourne, meanwhile, has championed the grungy look.
French designer Pierre-Yves Gayraud styled Matt Damon in Bourne Identity.
In an interview, he described the character as wearing practical clothing that people might find in an army surplus store, such as t-shirts, jeans and sturdy boots.
But for sneaking into posh office and hotels, Bourne would pull on a "simple long black winter coat", the designer said.
For real-life operatives during World War II, what they wore could mean the difference between life and death.
Writer and researcher Jone Johnson Lewis, writing on the website Women's History, has told of female resistance fighters on the Channel Islands wearing men's clothes to disguise themselves while posting flyers stirring opposition to German occupation.
Tim Long, curator of fashion and decorative arts at the Museum of London, said he was fascinated by the CIA's use of Harris Tweed.
He said: "I was pleasantly surprised to read about Mendez and how the film adhered to the look of the real agents, and that the use of the suits in the film was not a romantic one."