Inverness and Nairn charities host Chernobyl events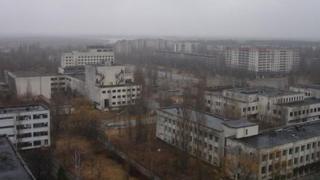 Events are being held in the Highlands to mark 27 years since the Chernobyl nuclear power plant disaster.
Explosions ripped through the facility in Ukraine on 26 April 1986.
The UK charity Chernobyl Children's Life Line helps families in Ukraine and neighbouring Belarus affected by harmful radioactive fallout.
During this week, Inverness and Nairn links of the charity are hosting visits by people involved in the clean-up of contaminated areas.
The events include meetings with MSPs, public talks and a visit to Edinburgh Castle.
Dennis Hopkins, chairman of the Inverness link, said it was an opportunity to hear first-hand accounts of the work to deal with the aftermath of the explosions.
'Healthy environment'
Nairn chairman Tom Heggie hoped the events would also raise awareness of the charity's work, providing holidays in Scotland and the rest of UK to children who have developed cancer and other health problems because of exposure to the fallout.
He said: "To take on the role of carer for these children during their recuperative holidays in the Highlands is challenging and also immensely rewarding.
"We see children when they arrive here with lower levels of energy and stamina, but after one month of good food in a healthy environment the children return to their homeland rejuvenated.
"It has been stated that these holidays can extend their life expectancy by up to two years."