Positive views on deer 'lean towards' red variety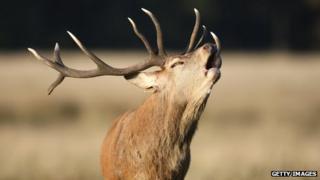 Red deer are seen in a positive light by the public while other species can be regarded as a pest, new research has suggested.
Scottish Natural Heritage (SNH) commissioned a pilot study of public perceptions of wild deer.
Surveys were carried out and the results of these have been published in a new report.
The study suggested positive feelings towards deer are widespread, but leaned towards Highland red deer populations.
The research said urban populations were seen as a nuisance.
Roe deer are mainly found in towns and cities.
Muntjac deer, a non-native species, has been deemed such a serious threat to crops and road safety that SNH urged deer managers to "shoot on sight" muntjac in the south of Scotland.
SNH has estimated that if a muntjac population became established in Scotland it could cost up to £2m-a-year to manage.
Welfare concerns
Red deer were romanticised by English painter Sir Edwin Landseer's 1851 oil-on-canvas painting, Monarch of the Glen.
Results of another SNH-commissioned survey published in 2011 suggested that deer were the type of wildlife the public associated most with Scotland.
Consultants interviewed 1,055 people to gather views on species, habitats and management of wildlife.
The results showed 73% of respondents associated deer with Scotland.
SNH's newly-published pilot study also suggested that survey respondents had an understanding of, and mixed opinions about, stalking.
People recognised economic importance of hunting but also raised moral and welfare concerns, the report said.
The surveys also found wide support for the production of venison.