Highland Council caves seminar being webcast after huge demand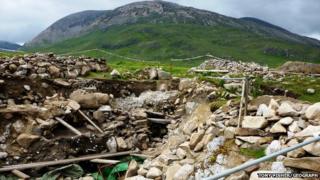 A seminar on caves and rock shelters occupied in the Iron Age has proved so popular its organisers have decided to stream it on the internet.
Highland Council said all the 140 places available for Saturday's free event were taken in a short time.
The seminar will look at sites such as Skye's High Pasture Cave and Fiscavaig Rock Shelter.
To try to meet demand for the event it will be webcast from 09:30 and remain available online for 12 months.
People interested in following the talks over the internet have been told to go to the council's webcasting site.
Stringed instrument
The seminar has been organised by the local authority's planning department.
Speakers will include archaeologists from the universities of Bradford, Durham, Cardiff, Edinburgh, Glasgow and the University of the Highlands and Islands.
Experts from the British Geological Survey, CFA Archaeology, Historic Scotland and National Museums Scotland will also take part.
The seminar is called Underworld: the use of caves, rock shelters and underground places during the Scottish Iron Age.
Several Bronze and Iron Age finds have been made at High Pasture Cave.
They include the remains of what archaeologists believe to be the earliest stringed instrument to be found so far in western Europe.
The small burnt and broken piece of carved wood was found during an excavation in a cave on Skye.
Archaeologists said it was likely to be part of the bridge of a lyre dating to more than 2,300 years ago.
Music archaeologist Dr Graeme Lawson said the discovery marked a "step change" in music history.
Air quality
Other caves in the Highlands include the Inchnadamph Bone Caves, where the prehistoric remains of animals, including bears, and humans have been uncovered.
Another cave on Skye thought to have been occupied by people as early as 3BC was still being lived in in 2010.
A new hearth for a fire and stacks of wood cut for kindling were found in the L-shaped fissure at Leitir Fura, Kinloch, on Skye.
Its more recent occupation was noted in the former sea cave's entry on Highland Council's historic environment record database.
Forestry Commission Scotland had commissioned archaeologist Martin Wildgoose to make a fresh assessment of a township abandoned during the Highland Clearances and the nearby cave.
And it is not the first time there has been a rush of interest in an event exploring the Highlands' subterranean history.
In 2009, places on a guided walk at a wartime underground fuel depot at Inchindown, near Invergordon, were booked out within hours.
Air quality inside the World War II complex had to be tested ahead of the event.