HMS Sutherland returns to Invergordon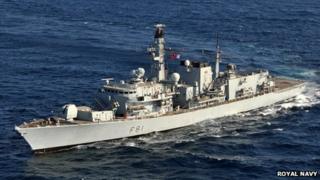 A warship that cut short a visit to a Highlands port to join military operations off Libya has returned to the town.
HMS Sutherland was in Invergordon in March 2011 to be given the freedom of the county of Sutherland.
It left the port a day earlier than expected but at the time the Royal Navy would not comment on the reason why.
About four months later the navy confirmed the frigate had been diverted to the Mediterranean.
HMS Sutherland and other warships blockaded Libyan ports as part of Nato operations against Col Gaddafi and his forces.
Following the collapse of the Gaddafi regime, the ship carried out anti-piracy work off the Horn of Africa.
HMS Sutherland and its crew came back to Invergordon on Saturday and will remain in the town until Wednesday.
The Type 23 frigate has been involved in Exercise Joint Warrior. The international training has been taking place in the air, sea and land around Scotland.
HMS Sutherland spent time in Loch Eribol in Sutherland on Friday.