Body found in Loch Morar after missing kayaker search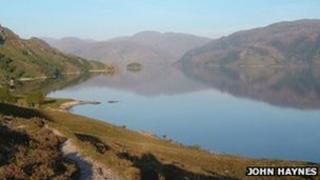 A man's body has been recovered from a Highland loch following a search for a missing kayaker.
The missing man had been kayaking in Loch Morar, in Lochaber, on Sunday night, with another man, when they ended up in the water.
The other man swam ashore to an island before managing to raise the alarm in the early hours.
He is being treated in hospital in Fort William for the effects of the cold.
His condition is not thought to be serious.
The dead man's body was pulled from the loch following searches by the Stornoway Coastguard helicopter.
Police are investigating the circumstances of the death and said no further details would be given until a formal identification had taken place.
Loch Morar is 18.8km (11.6 miles) long and is the deepest freshwater loch in the UK with a maximum depth of 310m (1,000ft).