Liam Aitchison: Western Isles' first murder since 1960s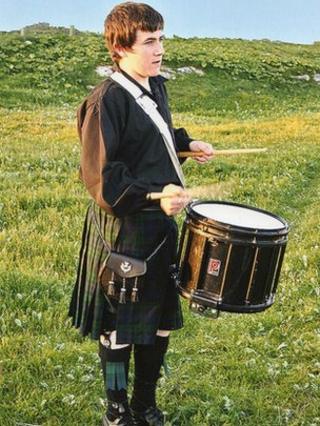 What started as a missing person's search became the Western Isles' first murder in 43 years. Teenager Liam Aitchison's brutal death in November 2011 shocked islanders but also attracted some unwelcome attention.
"Liam, Shine on our Crazy Diamond. Love Always," Liam's sister Natasha and their father Norman wrote in a tribute following the discovery of the 16-year-old's body.
The words summed up the personality and life of the young fisherman.
Liam had been in trouble with the police. Around the time of his murder he had been due to appear at Stornoway Sheriff Court to be sentenced for assaulting an ambulance technician trying to tend to him during the summer of 2011.
But those who knew him best described Liam as a talented, kind boy with a great sense of humour.
His girlfriend's sister described him as being like her "wee brother", and more than 300 people attended a Requiem Mass for Liam and heard about his interests and achievements.
He had been a drummer in the Uist Pipe Band and a member of the Western Isles' children's parliament, an organisation that aims to give young people a voice on issues affecting them.
Liam had a wide circle of friends both on his home island of South Uist and in Stornoway, after he moved north to the Isle of Lewis in August, four months before he went missing.
That group of friends included Lewis-born Johnathan MacKinnon and Stefan Millar, who had moved to the island when he was 10. The two men worked together on a fishing boat.
On 23 November 2011, MacKinnon, Millar and Liam had gone out drinking in Stornoway.
MacKinnon, who was then 21, and Millar, who was 20, later told friends they had fought with Liam but he had been okay and they had last seen him headed for a friend's house.
Five days later Liam's girlfriend Ellen McLennan reported him missing.
She told the High Court in Glasgow that she had waited that long because she thought he was in detention following his court appearance.
About a week after Ellen made her missing person's report, Liam's partially-clothed body was found by a volunteer coastguard officer in a derelict RAF building at Steinish overlooking the runway of Stornoway Airport.
It emerged during the High Court trial that Liam had been living rough at a redundant military store when he was not "crashing" at the home of his girlfriend's sister.
Liam's was wearing only a T-shirt, underpants and socks when his body was discovered. There appeared to be blood stains on the carpet and human teeth were also found at the scene.
Police said they were investigating a murder.
The Wright Stuff
The last murder on the Western Isles had been the killing of 80-year-old Mary Mackenzie at her cottage at Brue on Lewis in 1968.
There was a murder inquiry in 2006 after Murdo MacDonald, 56, was beaten by three men in Stornoway and later died from his injuries. However, the charges against Mr MacDonald's attackers were later reduced to serious assault.
Liam's death was reported in the media as the first killing on the isles in more than 40 years.
This detail made the case national front page news and was a topic for discussion during a newspaper review on Channel 5's The Wright Stuff. What was said in that short segment sparked a public row.
Picking up on the headlines about Liam's death, presenter Matthew Wright did a mock Scottish accent and said "there's been another murder", copying a phrase from TV detective show Taggart.
Wright's guest Charlie Baker described the probe as "the longest episode of Taggart of all time".
Viewers almost immediately started posting complaints about the show on Twitter and also contacted Ofcom. The TV watchdog later reported that show was the most complained about during 2011, attracting 2,220 complaints.
Wright made further apologies, which included a second on-air apology. He also wrote to and spoke with Liam's family.
During the row over the TV show, Millar and MacKinnon were arrested.
The pair denied murdering Liam and the case went to trial at the High Court in Glasgow.
'Horrendous scenes'
The court heard allegations that MacKinnon stole a meat cleaver from a fishing boat and had spoken about wanting to stab someone.
There were claims that Millar bragged to a cell-mate at Inverness Prison that he was involved in Liam's death. Millar denied the claim and also to having anything to do with the teenager's death.
The court heard how Liam had died.
A pathologist who carried out a post-mortem examination said the teenager was stabbed 20 times. Two major arteries were struck - the carotid and the aorta - which would have proved fatal.
Dr Rosslyn Rankin also said some of Liam's injuries suggested that he had tried to defend himself.
He also had multiple blunt force injuries, including a fractured jaw and nose.
Crime scene examiner, Jody Scene who visited the building in Steinish, told the court: "In my eight-year career, it is one of the most horrendous scenes I have been to."