Musical boat for Ullapool's Skiff World Championships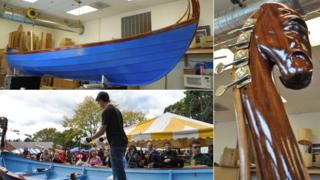 A small boat that doubles as a musical instrument has been entered into a new competition for vessels called skiffs.
The Sephira, also known as the Musical Ark, was constructed by staff and students at a school in the US.
It has been entered into the St Ayles Skiff World Championships in Loch Broom, near Ullapool, in July.
St Ayles skiffs are rowing boats measuring 22ft long and 5ft 6in in breadth and built to the design of a traditional Fair Isle skiff.
Enthusiasts can buy the craft in a kit form.
Moravian Academy in Bethlehem, Pennsylvania, created the Sephira.
Woodwork teacher and artist Michael Brolly, who previously work with harp inventor Bill Close on another project, was heavily involved in constructing the skiff.
Mr Brolly said: "Once we had the boat built and the strings on, and the students heard how cool it sounded, it was just a hop, skip and jump to get one of the really smart talented ones interested in seeing if he could figure it out.
"And I must say it only took him a couple of hours to figure out how to tune and play it.
"Now they are putting to music a poem that my wife wrote in honour of the whole project."
Mr Brolly's previous work includes a guitar that looks like an alien's head.
The Skiff World Championships will be held from 8-14 July. The Princess Royal will officially open the event.