Isles teenager Liam Aitchison 'stabbed 20 times'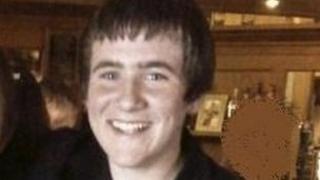 South Uist teenager Liam Aitchison was stabbed 20 times, the High Court in Glasgow has heard.
Pathologist Dr Rosslyn Rankin said some of Liam's injuries suggested that he had tried to defend himself.
The 16-year-old, whose body was found in a derelict property in Steinish on Lewis in November 2011, also had a fractured jaw and nose.
Stefan Millar, 22, from Inverness, and Johnathan MacKinnon, 22, of Elgin, both deny murder.
It is claimed the teenager was struck on the head and body with a knife and bottle as well having his head stamped on.
Dr Rankin, who carried out the post-mortem examination, said Liam had stab wounds to his neck, chest and abdomen.
Two major arteries were struck - the carotid and the aorta - which Dr Rankin said would have proved "fatal".
Dr Rankin also told the trial that Mr Aitchison suffered multiple blunt force head injuries.
Prosecutor Iain McSporran asked: "Would it be right to say that Liam's face was a mess?"
Dr Rankin said: "That would be a reasonable description."
Mr McSporran said it appeared Liam was subjected to "serious violence", which the witness agreed with.
The court was told that Liam had a number of "incised wounds" which Dr Rankin said pointed to "defensive-type injuries".
Mr McSporran asked: "So, does that indicate that Liam was trying to defend himself?"
The pathologist said that would be her suggestion.
The trial, before Judge Lord Kinclaven, continues.