Mary, Queen of Scots, teen drama to screen in US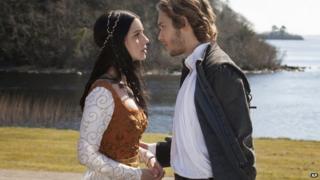 A new television drama re-imagining Mary, Queen of Scots' teenage years is to be shown in the US this autumn.
Reign stars former Neighbours actress Adelaide Kane as the young royal and has reportedly been pitched as "Game of Thrones meets Marie Antoinette".
Made by The CW, the first trailer for the US series has just been released.
Born in 1542 in Linlithgow Palace, Mary became queen when she was just six days old. Her cousin Elizabeth I signed orders for her execution in 1587.
Reign has been given a coveted slot in CW's autumn schedule, according to Deadline Hollywood. It will be screened after new episodes of supernatural drama Vampire Diaries.
Television network, The CW, said its new drama will chronicle the rise to power of Mary when she arrives in France as a 15-year-old, betrothed to Francis, a French prince.
In Reign, the young queen's three best friends are her ladies-in-waiting.
The CW added: "It details the secret history of survival at French Court amidst fierce foes, dark forces, and a world of sexual intrigue."
The real Mary, Queen of Scots had a complicated personal and public life, including during the period of time portrayed in Reign.
When she was five years old, Mary was betrothed to Henry VIII of England's son, Edward.
However, her Scots Catholic guardians were against the match and broke the agreement. Mary, when she still a girl, was later betrothed to the four-year-old heir to the French crown, Francis.
In April 1558, the teenage couple were wed at Notre Dame Cathedral in Paris. Francis became king the following year and the French and Scottish crowns were united, but only briefly as the king died in 1560 from an infection.
Mary returned to Scotland and became embroiled in religious unrest and political plots.
She was suspected of being linked to Catholic plots to assassinate Elizabeth I.
For years, Elizabeth was reluctant to act against her cousin, but in 1587 she signed the death warrant and Mary was executed in 1587 at the age of 44.
Earlier this month, the Marie Stuart Society called for an official public statue to be erected in Scotland to Mary.
In March, Historic Scotland sought to put to bed myths surrounding where the Queen of Scots slept on her travels around Scotland.
Chris Tabraham, principal historian at the agency for 40 years before retiring, said tradition has it that she stayed almost everywhere.
Writing in Historic Scotland's magazine he gave details on places the queen is factually known to have stayed in.
They include properties in Lothian, the Borders, Moray and the Highlands.